We would like to start off by thanking everyone that applied for our Design Team. THANK YOU! It was a fun seeing all the beautiful cards submitted and the lovely smiling faces too! Please help us in welcoming the New Members of the M5D Design Team!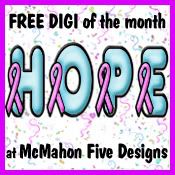 It's that time again when we remind you about your monthly self exam! And when you have completed it, you can download the image below for FREE!
Something
NEW
we are going to do per a request we received
is to let you know even though WE focus on Breast Cancer Awareness,
the ribbon represents so many other cancers and diseases.
Each month we will list that month's Awareness and their Colors.
Below are the Awareness and Colors for January
Cervical Health Awareness Month
- Teal & White Ribbon
www.nccc-online.org/awareness.html
National Birth Defects Prevention Month
- Pink & Blue Ribbon www.nbdpn.org/current/resources/bdpm2010.html
Thyroid Awareness Month
- Pink, Blue & Teal (tri-color)
www.aace.com
Glaucoma Awareness Month
- Green Ribbon http://www.preventblindness.org/news/observe.html